Indian women are known for their love of colour, and in the world of fashion, this translates into a lot of bright and vibrant outfits. A lehenga choli (long skirt) is one of the most popular styles for Indian women—and it's easy to see why! A classic Lehenga-Choli features a long skirt ((lehenga) and a fitted top/blouse (choli), typically paired with a dupatta (a long scarf) to complete the look.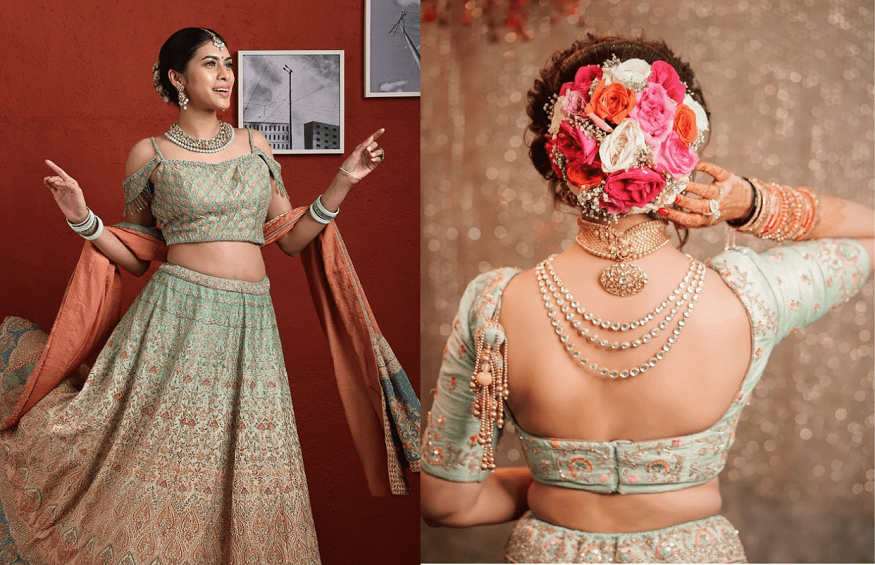 In recent years, several voguish designs have come to be associated with this ethnic wear. People have started experimenting with different styles of lehengas and cholis, which has increased the number of choices available today. One of these new trends is bright-colouredlehengas and cholis. Several brands offer beautiful shades of blue, green, and yellow depending on what kind of mood you want to set. 
But, if you want the best of contemporary and ethnic trends- visit House of Indya! You will be mesmerized to see the diverse range of designs, refreshing concepts, embroideries, and fabrics.
Lehenga Cholis can be seen everywhere, from Bridal wear couture to wedding guest outfit trends. To get a hold of this year's insta worthy lehenga inspirations, scroll down.
2022 Trending Lehenga Choli 
1. Technicolour Lehenga
Technicolourlehenga is a retro trend that invokes nostalgia! The metallic technicolour silhouettes give a classy and rich look. This trend has been a hit this year, especially among brides, from attractive engagement lehenga looks to vibrant wedding ceremonies. Technicolour is also an excellent choice for a bridesmaid lehenga choli because of its youthful and fun vibe!
2. White and Off-white Lehenga
White and Beige are becoming the new Reds! Brides and wedding guests this season have been breaking the stereotypical outlooks with their gorgeous White/ off-white lehenga sets. This liberating colour adds a regal whimsy to the wearer's personality that no other colour can match. After all, White lehengas are not everyone's cup of tea! Let us know in the comment box if you are among the few who would want to make a statement in a White lehenga. 
3. Go Bold or get clean-bowled! 
Think of unconventional hues like turquoise blue, navy blue, emerald green, yellow, golden, lavender, orange and grey, violet and red, marsala, Haute and hot pink, etc. Modern Indian women are not afraid of channelling their inner divas that's why individual colour preferences have become a trend. Unlike a few years back when every Indian Lehenga was either red, orange, pink, or a combination of these.
4. Embellishments and Embroideries
From Gota-Patti lehengas, mirror-work ethnic skirts, sequins lehengas, floral embroidery, and metallic work to Zari work lehenga sets, shimmer has been a top choice! Whether you are attending a cocktail party or getting engaged- the right amount of shimmer can do wonders. Embroidery and embellishments add a royal aura and can make any occasion grand.
5. Printed Lehengas
Printed Lehengas are everything nice! They are lightweight, comfortable, fun, and versatile. They are easy to reuse by mixing and matching with different dupattas, blouses, ethnic crop tops, and embroidered jackets or capes. For the past two-three years, from pre-wedding photoshoots to celebrity Mehendi outfits to designer bridallehengas- printed lehengas have become a go-to-trend.
6. Timeless Anarkali or A-line lehenga
Anarkali silhouette lehengas have a captivating elegance that no design or trend can dominate. A-line lehengas are very conventional, but the flowy flair appeals to every Indian woman's heart. If you want an exciting twist, go with a pastel hue or trending embroidery style on an A-line lehenga.
7. Glam Gold 
The post-pandemic wedding affairs have become more intimate and downsized, which is why Gold Lehengas are the ultimate choice. From wedding rituals to the after-party and from Day to evening events- the golden colour transitions beautifully. Even if you are a guest, golden ethnic skirts or lehengas can give you effortless glam with minimal requirements for accessorizing.
What lehenga style or colour is at the top of your list; let us know in the comments below!