This new work routine is appreciated by both employees and employers. In addition, with this new daily practice, a different arrangement can be seen in each home, which is a separate work space in the home. In fact, different office spaces in homes allow people to work in peace. In addition to the right chair, desk, and workstation, the look of the home office has a big impact.
A neat workspace interior not only leads you to focused work but also provides a pleasant base for video meetings with colleagues, seniors, and clients. You have to be very careful when you think about the design of the workspace because it should be attractive, even if it is not too decorative from an office point of view. Here are some painting ideas to decorate your home office. You can buy paintings online and easily have them delivered to your door to decorate your home office!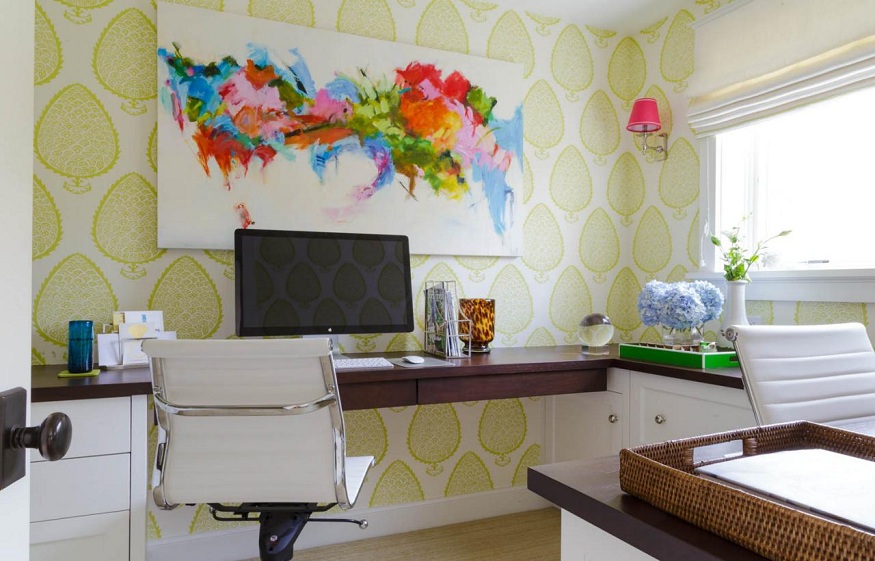 Abstract Art
Abstract art is an absolute choice for designing any workspace. This painting promises to change the atmosphere of your home office in just a few moments. In reality, this kind of artwork is a difficult concept if you are not a painter or artist. This is because abstract paintings have arbitrary or extreme thoughts. Impressive and deep lines mixed with light and dark colors give these paintings a wonderful look. 
Usually, workspaces should have a simple theme and an elegant look so that they can say something in every way. We're sure you don't need your partners making snide comments about the over-decorated style of your home office. As a result, purchasing abstract paintings makes sense. 
Floral Paintings
Everyone in this wonderful world loves flowers. There are so many flowers in nature that look great and convey a unique message. Just as red roses show love, white roses speak of harmony, and orange flowers of achievement, flower paintings and artwork fulfill a similar need. For the home office, you should get a flower painting that tells you to meet regularly to stay firm, private, and professional. If you want to buy floral paintings for your home office, you can buy daffodil paintings because they have all the features to give a perfect professional feel. 
Paintings of Seven Running Horses
Seven Running Horses canvas has long been one of the most popular elements in office spaces. The reason is that the seven horses promise and seek good fortune. If you look carefully at this painting, you will also see the wonderful rays of the sun embodying its excellent qualities and displaying the gifts of Lord Surya.
You'll feel good every time you enhance your home workspace with seven running horse paintings. It makes you work with dedication and high efficiency. Because hard work usually pays off, progress is also encountered in everyday life. So you have no reason not to buy seven horse paintings. 
Landscape Paintings
God has blessed us with countless wonders in life. And the greatest gift is nature, the environment, and the lovely landscape in which we survive. If you want to decorate the walls of your home office with something enthusiastic and exciting, landscape paintings can be your best choice. In fact, these paintings are available in various subjects, like hillside and mountain landscapes, river scenes, wildlife, and many more. This artistic creation usually gives great energy and convinces one to stay strong in all conditions, just like nature. For a formal area of the home, there can be nothing better than landscape compositions. Also remember that you will definitely get a lot of compliments from everyone who sees it, so you must buy landscape paintings!
Classical Indian Art
Classic Indian art artwork is another great choice for your home office. Whether you have a different workspace in your home, this painting is just the right thing to create a formal aura. It basically deals with peace, which is very important in office work. It shows how to change things and circumstances in everyday life. 
Conclusion
When you work from home, you face too many interruptions and difficulties. Therefore, you should, in any case, make sure that you have a legitimate focus so that you do not discourage your teacher at all. Changing the theme of your home office is probably the least effort you can make to work from home. If you have just read the features of their artwork, you should consider buying these paintings online.